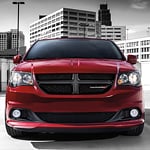 Want to get where you're going safely? We want the same. At Bay Cars in Panama City, FL, safety is of the utmost importance. The Dodge Grand Caravan offers just that. This popular family minivan offers several features that make this vehicle a top pick for safety, as you own the road in class and spacious comfort.
The Dodge Grand Caravan boasts of several specs that make it a great pick for safety. Equipped with Parkview rear backing camera technology, the vehicle allows you to see behind you and will notify you when something is in the way. This can be especially helpful for avoiding stray toys, other vehicles, or worse, other children who might be playing in your driveway. Moreover, this Grand Caravan has all-speed traction control making it a key player in keeping you safe in snow, rain, sleet, or hail.
Clearly, the Dodge Grand Caravan was not only built for style but as a safety net for you and your family. With reassuring features such as all-speed traction control and rear backing camera technology, you can ride freely knowing that Dodge has you covered.