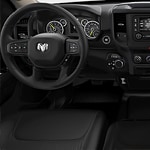 A Ram 1500 is the perfect vehicle for those looking to get something highly durable and able to get the job done right for you. This truck is affordable, but it also has a smooth powertrain that performs on command just as you want it to. The 3.6-liter V6 engine and the 5.7 liter V8 engine option are what powers the Ram 1500 and all that it is capable of doing.
Engine torques on this truck are powerful and the transmissions are also top of the line. Every element of the Ram 1500 has been specifically crafted to produce a product that takes you wherever you need to go no matter what.
An amazing amount of work has gone into putting out the Ram 1500, and drivers will understand that they have a quality product on their hands as soon as they get to work looking at all that it is capable of doing.