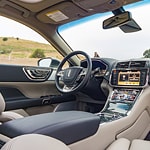 The Lincoln Continental has become such a popular luxury car today because of the way it handles on the road. It is so comfortable, elegant, and refined. In short, it has just about everything you could want in a luxury car and then some. Your passengers will be quite impressed as well.
With the adaptive cruise control feature, you will no longer have to worry about braking every time you approach traffic. The car will take care of that for you. You will also notice the car accelerate when the traffic clears up, making it a more enjoyable experience overall.
You will also love the electric power-assisted steering. This provides you with an easier steering experience when traveling at low speeds while becoming firmer the faster that you go. These are just a few of the performance features you can experience for yourself when you stop by Bay Cars and take the Lincoln Continental on a test drive.